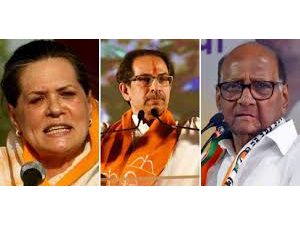 New Delhi (21.06.2021): MVA CM Uddhav Thackeray isn't seen to be in a happy situation. Contradictions in the alliance are seen escalating, even as the Damocles' sword of widespread Maratha disenchantment on the issue of reservation of the community in government jobs and education hangs over his head by the slenderest of thread. The slenderest thread, represented by the Congress Party and Sharad Pawar' NCP, may snap any moment and bedevil Thackerey's Gaddi (Throne).
Look at how things are faring. Congress president Nana Patole, on the other day, announced that Congress will contest BMC and next Assembly elections alone. He also declared himself to be the next chief ministerial candidate.
Actually, Patole's latest statement is seen as a rejoinder to Thackerey's statement on Sena's 55th foundation day. However, he was the first to stoke the fire of contradictions by stating that Congress might go solo in contesting the next assembly elections as the BMC elections.
The CM, reacting to Patole's earlier statement, had stated: "What about employment? The livelihoods have been impacted. All citizens are uneasy about their future in a post-COVID scenario. If we don't take their anxiety into consideration and only give a call for contesting elections alone, people will hit you with chappals."
This angered the Congress stalwarts. And Patole. among others came forward to take issues with the CM. He said: "We formed the Maha Vikas Aghadi (MVA-in 2019) for five years to stop the BJP. This is not a permanent fixture. Every party has the right to strengthen its organization and the Congress has always given priority to providing relief to COVID-19 affected people by making available blood, oxygen, and plasma at various places."
Further, Sena leaders believe that the NCP and Congress are attempting to poach Shiv Sena leaders for municipal elections in Mumbai and Thane to be held next year.
Sena MLA Pratap Sarnaik, who is under Enforcement Directorate scanner, is said to have written to the party chief to "reconcile" with the Bharatiya Janata Party (BJP) and Prime Minister Narendra Modi "before it is too late", saying such a move will save leaders like him from "problems being created by central agencies".
A letter addressed to Thackeray on June 10 alleged that the Congress and NCP, which are constituents in the Sena-led Maha Vikas Aghadi (MVA) government, were weakening the saffron party by creating divisions in its ranks and also pointed out that civic polls are due in many cities, including Mumbai, in coming months.
An MLA from Thane city, Sarnaik said that even though the alliance with the BJP has broken, personal and harmonious relations between leaders of the 'yuti' (Shiv Sena-BJP) remain. "It's better to reconcile before it is too late," he added.