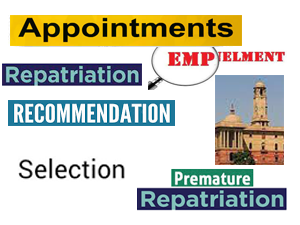 New Delhi (31.05.2023): Notifications of appointments and recommendations issued on Wednesday are as follows:
Tenure of B P Pati (IFoS: 1994: GJ), Joint Secretary, Ministry of Coal, was extended for a period of two years.
Tenure of Arun Kumar Sinha (IPS:1987: KL) as Director, Special Protection Group (SPG), at the level of DG, was extended for a period of one year.

Additional charge of V R Akkaraju, Chairperson, New Mangalore Port Trust, was ex-post facto approved for the post of Chairperson (JS level), Mormugao Port Trust for a period from 03.03.2023 to 02.04.2023.

Atul Kumar Tiwari (lAS: 1990: KN), Secretary, Ministry of Skill Development and Entrepreneurship, was entrusted with additional charge of the post of Secretary, Ministry of Micro, Small & Medium Enterprises till the appointment of a regular incumbent.
Ashwani Kumar, Executive Director, lndian Bank as Managing Director & Chief Executive Officer (MD&CEO) in UCO Bank for a period of three years.
Lalitaditya Neelam (IAS: 2019: CG) was shifted from Chhattisgarh to Tamil Nadu cadre on grounds of his marriage to Brinda S (IPS: 2019: TN).
Aashima Goyal (IAS: 2022: KL) was shifted from Kerala to Uttarakhand cadre on grounds of her marriage to Rahul Mishra (IFS: 2022: UD).