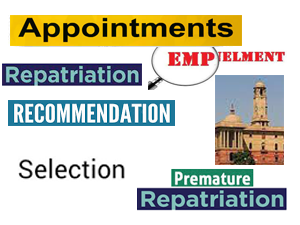 New Delhi (16.08.2022): Notifications of appointments and recommendations issued on Monday are as follows:

Ms Anjula Jain (IRS IT:2003) was prematurely repatriated to her parent cadre to avail the benefit of promotion. She is the Director of the Department of Health and Family Welfare.
Brig VK Nambiar (YSM, SM, PARA) was appointed as Inspector General (East) in the Assam Rifles on a deputation basis, for a period of 18 months or until further orders, whichever is earlier.