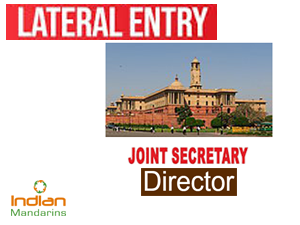 New Delhi (08.10.2021): The UPSC has recommended 31 candidates for lateral entry as JS/Director/Dy Secretary after interviewing 231 shortlisted candidates for the purpose. The interviews were conducted between September 28 and October 8, 2021.

It may be noted that the Department of Personnel & Training (DoP&T) had requested the Union Public Service Commission (UPSC) on 14.12.2020 and 12.02.2021 to select suitable persons to join the Government at the level of Joint Secretary/ Director/ Deputy Secretary in various Ministries/ Departments of the Government of India on Contract/Deputation basis.
Following on the request, the UPSC invited Online Applications for Joint Secretary/ Director level Posts on 06.02.2021 with the closing date as 22.03.2021 and for Deputy Secretary Level Posts on 20.03.2021 with the closing date as 03.05.2021. In response, a total of 295 applications for Joint Secretary Level Posts, 1,247 applications for Director Level Posts, and 489 applications for Deputy Secretary Level Posts were received.