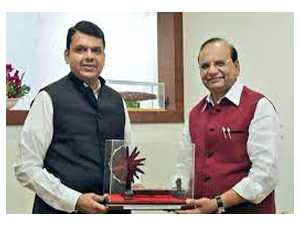 New Delhi (23.05.2022): Vinai Kumar Saxena has been appointed as the new Lieutenant Governor of Delhi replacing Anil Baijal. The appointment of Saxena is yet another surprise by the Modi government as he does not have any administrative experience. Currently, Saxena is the Chairman of Khadi & Village Industries Commission (KVIC), an organization under the Ministry of Medium, Small and Micro Enterprise, Government of India.

Saxena's appointment came as a surprise to many as he is considered the first person from the corporate sector to be appointed to the coveted position which has usually been held by civil servants.
Born in UP Saxena, (64) started his career with JK Group's white cement plant in Rajasthan, before moving to the Dholera port project in Gujarat in 1995.
During his tenure that started off in October 2015, KVIC witnessed unprecedented growth and innovation in terms of diversification of products, branding & marketing strategies. During the period the sale of KVIC products jumped from Rs 42,000 to Rs. 1.51 Lac crore. During his term KVIC worked on schemes and products such as 'Honey Mission', 'Kumhar Sashaktikaran Yojana', 'Leather Artisans' etc.