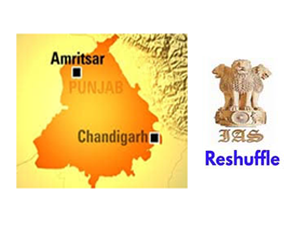 Chandigarh (24.05.2022): The Punjab government has reshuffled seven IAS officers and one Indian Forest Service (IFS) officer. They included:

Gurpeet Kaur Sapra (IAS: 2005: PB), finance secretary, has been given additional charge of Jalandhar divisional commissioner.
Pardeep Kaur (IAS: 2007: PB) has been appointed as special secretary, transport, with additional charge of special secretary, freedom fighters.
Neelima (IAS: 2008: PB), Punjab Health Systems Corporation managing director, has been given the additional charge of chief executive officer of the state health agency and commissioner, food and drug administration.
Vishesh Sarangal (IAS: 2013: PB) has been posted as the Kapurthala deputy commissioner with additional charge of the city's municipal corporation commissioner.
Karnail Singh (IAS: 2013: PB) has been placed at the disposal of the department of local bodies for posting as Amritsar municipal corporation commissioner.
Rajiv Kumar Gupta (IAS: 2016: PB) has been posted as secretary, Punjab State Board for Technical Education and Industrial Training, with additional charge as director, public instructions, (colleges).
T Benith (IAS: 2016: PB), who is the additional deputy commissioner (ADC) of Mansa, has been given the additional charge of ADC (urban development), Mansa.
Manish Kumar (IFS: 2006: PB) has been transferred as director, climate change.