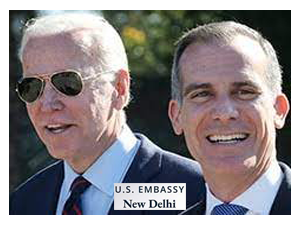 New Delhi (15.03.2023): Eric Garcetti is all set to be appointed as US Ambassador to India after Senate votes today. The post is vacant for over two years after former Ambassador Kenneth Juster resigned in January 2021. His appointment was not approved for the first time for Garcetti allegedly deliberately ignoring the sexual harassment charges against his mayoral advisor Rick Jacobs during his tenure as Los Angeles Mayor.

As per the necessary provisions in the US, the Senate Foreign Relations Committee (SFRC) approved his nomination for the second time recently. Actually, US president Joe Biden re-nominated Garcetti for the position in January this year after his confirmation was stalled in the last Congress. Despite the allegations, he was actually able to get away with it and his name was cleared by the SFRC for the diplomatic position in January 2022. But, his appointment hit a roadblock in March of that year when two senators -- Joni Ernst and Chuck Grassley – put a hold on his nomination. Garcetti's nomination has been pending before the US Congress since July 2021.
Meanwhile, a former colleague of Garsetti briefed the Senate on his alleged misconduct. "…the White House has put undue pressure on Democrats to vote for Eric Garcetti because he has been a very, very loyal person to President Biden," Naomi Seligman, a former communication director for Garcetti, said in a TV interview.
But besides all these allegations that are doing rounds against Garcetti in the US and spilt over to India as well, what has made Indians to focus their attention towards his appointment as US ambassador is Garcetti's opinion about India. Reportedly he along with his wife is alleged to be fanning CAA protests in India. When the former LA Mayor appeared before the Senate Foreign Relations Committee in December of that year, he made contentious remarks about the Citizenship Amendment Act (CAA), "I intend to engage directly with civil society. There are groups that are actively fighting for human rights…They will get direct engagement from me."
His further remarks are also unbecoming of a Diplomat, when he said, "These will not just be afterthoughts for me…I have fought for human rights on four different continents and will be a core part of what I will pursue with my Indian counterpart." A lawsuit too was allegedly filed about Garcetti being a witness to one of his colleague's routine involvement in sexual harassment, still, he did not do anything about it.
On the other Garcetti was heard as saying, "I will not only just bring it up but it will not be something in the end as an obligation. It will be a core piece of what I will be engaging my Indian counterparts with…"
But what is even more interesting is that even before Garcetti joined the foreign office in India, the US Embassy started engagement with some such Human Right activists by glorifying them on Twitter that questions the government which might jeopardize Indo-US relations. Moreover, does this come in the purview of a Diplomat or Diplomacy?