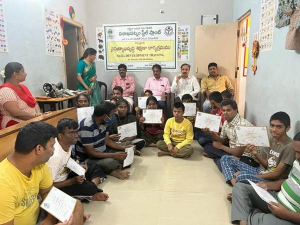 New Delhi (15.03.2023): With a view to empower Divyangjan and help them earn livelihood, RINL provided skill development training to 100 beneficiaries in Visakhapatnam. RINL spent Rs 4.95 lakh towards imparting necessary skills with the support of Jan Shikshan Sansthan under the Ministry of Skill Development and Entrepreneurship to the trainees as part of corporate social responsibility initiative of RINL.

As part of the noble endeavour, 100 divyangjans were trained at 3 training centres i.e., Sreya Foundation, Sujathanagar, Sunflower Special School, Pedawaltair, Lebenshilfe, MVP Colony in Visakhapatnam. On successful completion of the training program, certificates were given away to the participants.
The certificates were presented by A Ashok, GM (CSR) and other officials of Corporate Social Responsibility (CSR) of RINL. To make it convenient for the beneficiaries, RINL management provided the skill training at their respective Day care training centres, in various skills such as tailoring, preparation of home needs like agarbattis (incense stick), candle making, phenyl making and detergent making through special trainers from JSS (Jan Shikshan Sansthan). The duration of the training in tailoring was for 3 months and training in preparation of home needs was for 2 months.