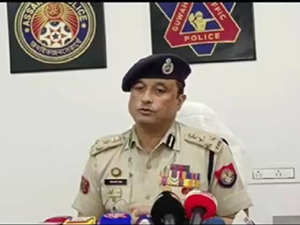 New Delhi (20.11.2023): An animation film on iconic Ahom general Lachit Barphukan written and directed by Partha Sarathi Mahanta (IPS: 2006: AM) has been selected for the Indian Panorama section of the International Film Festival of India (IFFI) 2023 to be held in Goa.

Lachit: The Warrior showcases heroics of Barphukan who is revered in Assam for preventing the Mughals from capturing Assam. It would be screened on November 21 for a global audience. Lachit commanded the Ahom army. The film traces the genesis of the military commander's ancestry, his charismatic personality, his dexterous skills in diplomacy and naval warfare, physical prowess, unmatched valour, and most importantly, his resolute sense of patriotism.
Under Lachit, Guwahati was won back from the Mughals in September-October, 1667. After a series of intermittent skirmishes, the military campaign ended in the battle of Saraighat (1671), where the Mughals were beaten decisively.
Produced by Mina Mahanta and Indrani Baruah, the film was screened and awarded at 10 film festivals in India and abroad this year. They include the 15th Jaipur International Film Festival, the 6th South Asian Short Film Festival in Kolkata, the Kollywood International Film Festival in Chennai, and the Newborn Short Film Festival in Berlin.