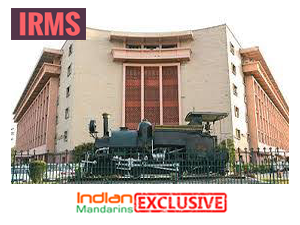 New Delhi (11.08.2022): The New Delhi establishment is still lauded for its historic move of merging all eight organized Group A services of Railways into one; Indian Railways Management Service (IRMS). The objective was to ascertain a fast and result-oriented decision-making process in the railways by eliminating cadre conflicts, and departmentalism, and bringing uniformity in the categories of services.
Despite a noble objective and far-sighted move Ministry of Railways appear to have tied itself into knots.
While the new rules for promotion as General Managers and Members Railway Board, were notified in the last week of May (over two years after the Cabinet nod in December 2019), the exercise to shortlist applicants is still underway. Due to an open call for applications from four batches - 1983 to 1986 - the total number of applicants has swelled to nearly 135.
Now, each one of them has to be given a 360-degree screening. The applicants have also been asked to submit "ESSAYS" on what five significant things they have done so far in their careers and what five they propose to do as GM Railways if promoted. This exercise of 360-degree feedback requires that the committee appointed for the purpose must speak to dozens of officers for each candidate and record the feedbacks. A rough estimate indicates that about ten thousand phone calls have to be made.
Additionally, the committee has to carefully read ten "essays" written by each officer. That means nearly 1350 essays.
It would be interesting to note that none of the members of the committee has ever been a General Manager himself, and some have not even been a Divisional Railway Manager. Yet, they hold in their hands the fate of 135 senior officers, some of whom will go on to become GMs and Board Members and supposedly deliver superior results compared to what has been delivered so far.
This supposed landmark process of appointment to senior posts has become an albatross around the neck of the government. Some posts of GM Railways are vacant since October 2021, a total of 11 in all. In addition five out of seven Apex Grade posts in the Ministry are also vacant for several months each, some for over a year. The posting of nearly twenty new DRMs to replace those who have completed their terms is overdue for a year as well.
How does the government wish to create a safe, comfortable, dynamic, modern, and profitable Railway system if the top management is missing and those who are officiating are unsure of their status and tenures. No wonder important projects like the Dedicated Freight Corridors, Bullet Train, Vande Bharat Express, and Station Development are floundering.
(By Rakesh Ranjan)