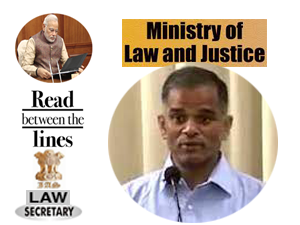 New Delhi (09.05.2022): In a 360-degree about-turn, the government has dropped the experiment of appointing a person from the Indian Legal Service or the judicial fraternity as the law secretary. It has again bet on the old workhorse, IAS, for filling the post of union law secretary.

This seems to be the general inference in the administration following the appointment of Dr. Niten Chandra (IAS:1990:OR) as Secretary, Department of Legal Affairs (Law Secretary). As Law Secretary, Chandra may have a tenure up to October 2025 i.e. till his superannuation.
The post had been vacant since February this year on the appointment of Anoop Kumar Mendiratta as the Judge of the Delhi High Court. It may be noted that Mendiratta was drafted from the judicial service on merit on the basis of a selection process.
The post was earlier held by Alok Srivastava (IAS:1984:MP), who as Secretary Justice also functioned as Law Secretary for over a year beginning December 01, 2018, until Mendiratta was made Law Secretary in October 2019.
Mendiratta was credited with drafting the ill-fated farm laws that were repealed following the large-scale farmers' protest lasting for over a year.
It is pointed out that the drafting quality of these farm laws, among other pieces of legislation, drew sharp reactions from the Chief Justice of India in his speech who bluntly commented that the quality and precision of the Drafting of law & legislation needed improvement.
It is inferred from circumstantial evidence that Alok Srivastava's track record as law secretary might have persuaded the government to return the post to the IAS cadre. Though Mendiratta's appointment as Judge of Delhi HC indicates that the Centre appreciated and rewarded him for his term as Law Secretary.
But Dr. Chandra's appointment as law secretary has had its own twists. Earlier, he was overlooked for secretary empanelment. In 2018, he was empaneled as an additional secretary and his peers thought that he might not get into the league of secretaries.
In a sudden turn of developments, Chandra has not only become a full-fledged secretary but has been entrusted with the department of law which is seen as a critical ministry in the NDA dispensation because of its focus on reforming and liberalizing the law and administrative processes.
Maybe, the government has come to count on the old workhorse IAS to execute its reform agenda seamlessly in conjunction with the law ministry where a fellow IAS is placed as the officer in charge instead of someone from outside its fraternity for a better rapport within the portals of the government.
(By Rakesh Ranjan)