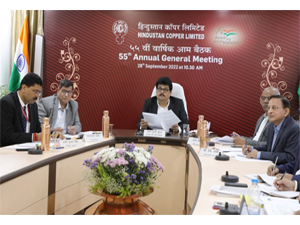 New Delhi (28.09.2022): Hindustan Copper Ltd (HCL) recorded the highest ever net turnover of Rs 1812 crore in the financial year 2021-22, informed Arun Kumar Shukla, Chairman & Managing Director, HCL while addressing the Shareholders at the 55th Annual General Meeting of the Company held on September 28 via Video Conferencing.

The CMD while enumerating the importance of copper as a metal said that as the global economy moves toward net zero carbon emissions through the energy transition, the role of copper as a metal remains pivotal as the most efficient conductive material, indispensable for capturing, storing and transporting green energy. Hence a significant rise in demand for copper has been predicted on account of a thrust on low carbon economy.
The Shareholders also approved annual accounts and payment of dividends for FY 2021-22 equivalent to 23.20 percent of the capital and the total payout on this account is Rs 112.17 crores. Many of the Shareholders have appreciated the performance and the financial management of the Company.
While replying to the Shareholders' queries, CMD Shukla apprised them about the ongoing mine expansion plans of the Company.
The production from HCL's flagship project, Malanjkhand Underground Mine, has already commenced.
He further stated that the Company is moving forward to achieve its production targets. The CMD also informed that the Company has repaid the loan of Rs729 crore in FY 2021-22 from its internal accruals.
He further threw light on the increase in Copper LME price in the coming days on the back of soaring demand for copper in the international market.
The meeting was also attended by Prakash Mundharikar from the Ministry of Mines, Govt of India as the nominee of the President of India, Sanjay Panjiyar, Director (Operations), Ghanshyam Sharma, Director (Finance), Sanjiv Kumar Singh, Director (Mining) and AGK Prasad, Avinash J Bhide, Hemlata Verma, Independent Directors and CS Singhi, ED (Co-Secretary), among others.
The shareholders also approved other resolutions as per AGM Notice.
FY 2021-22 highlights:
• Highest ever net Turnover of Rs 1812 crore.
• Profit Before Tax has surged by 338 per cent to Rs 381.76 crore.
• The Dividend payout is 30.01 per cent of PAT of the financial year. The dividend per share is the highest ever declared by the Company.
• Rs 500 crore raised through QIP in April 2021. The Company is the first ever non-banking CPSE to raise equity from the market through QIP. The proceeds are being used to fund its ongoing mining capex.
• The Company has been rated ICRA A1+ (the best possible rating on short-term scale) & ICRA AA+ (stable) (the second-best rating on a long-term scale)
for its borrowing limits.