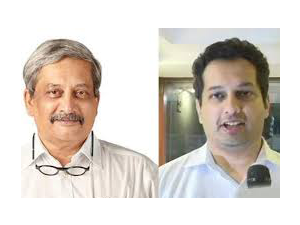 New Delhi (18.01.2022): Former Defence Minister and Goa's political stalwart Late Manohar Parrikar's son Utpal Parrikar has emerged as BJP rebel. He has raised his voice against BJP leadership.

Manohar Parrikar represented Panaji seat all along his life. Now, Utpal wants to retain his father's seat.
"All the party workers, who supported my father, are with me. I have maintained my relationship with them," said Utpal Parrikar.
After the death of Manohar Parrikar the BJP fielded Atanasio Monserrate from the Panaji seat. Atanasio, formerly a Congressman, joined BJP in 2019 and won Panaji seat on BJP ticket but Utpal Parrikar couldn't accept it citing his criminal past. BJP leadership is conveying Utpal's family members to persuade him not to contest Panaji seat. But he can opt for any other seat in Goa. As of now, Utpal is a rebel and the BJP leadership has to take a call on his claim over his father's traditional seat Panaji.