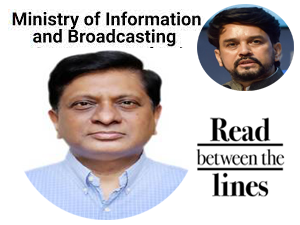 New Delhi (21.08.2021): After a long gap of sixteen months, the Ministry of Information and Broadcasting (I&B) has finally got a regular Secretary in Apurva Chandra - a 1988 batch IAS officer of Maharashtra cadre. In the absence of his replacement in the Ministry of Labour & Employment (MoLE) it is assumed that Chandra would continue to hold the additional charge of MoLE for now.

It is to be underlined that the top administrative slot in the I&B Ministry has been vacant since the migration of Ravi Mittal to the Ministry of Sports in April 2020. In the intervening period, Union Secretary for Higher Education Amit Khare (1985 batch IAS) held the additional charge of the I&B Secretary. The long stop-gap arrangement became a matter of gossip in the corridors of power.
Officials believe that Khare's tight-rope-walk and maneuvering kept him firmly ensconced in the hypersensitive I&B Ministry.
After the recent Cabinet reshuffle, officials were at a loss to figure out how Khare continued to hold the additional charge even though union ministers Prakash Javadekar (I&B), Dr. Ramesh Pokhriyal Nishank (HRD) and MoS (HRD) Sanjay Dhotre were ousted. It is said that Khare's 'optics management' skills might have done the tricks. Yet it makes one curious about the urgency of change in I&B as this could have happened earlier also but why now only is a different inside story?
Against this backdrop, Chandra may have to go the extra mile to impress the PMO. It is said that his previous track as DG Acquisition under the Ministry of Defence might have earned him the confidence of the top political leadership. However, the I&B Ministry is a different ball game. Even then, those who have worked with Anurag Thakur when he was MoS Finance suggest that his graceful behavior in the day-to-day-dealings would make Chandra navigate his course with ease. Another open secret that may add to Chandra's comfort is that like Khare, he too might get the unstinted support of PMO's Hiren Joshi to run the Ministry with ease.
(By Rakesh Ranjan)