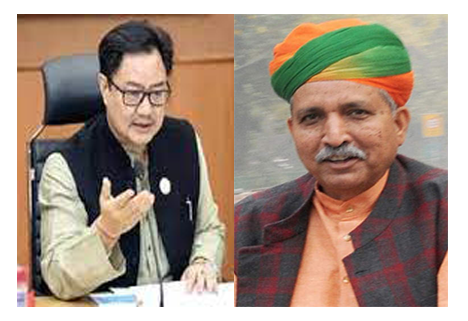 New Delhi (18.05.2023): Kiren Rijiju's removal as Union law minister replacing him with Arjun Ram Meghwal, a former bureaucrat, has left everyone dumb with surprise and left guessing that why this sudden move.

This is certainly an extraordinary move when Rijiju and the higher judiciary were involved in a duet and decisions of higher judiciary kept on embarrassing the Centre one after another. Moreover, what was the tearing hurry is the whisper in the power alleys when reshuffle was also expected?
Social media is rioting against the singled out stand-alone reshuffle of portfolio with messages like none but judiciary has nailed Kiren Rijiju. Still, one can't be sure of the reason that might have precipitated this way. The move of NaMo 0.2 extraordinary as this is for the first time that a stand-alone reshuffle has been effected.
But there is a flip side too, for the government Rijiju was only talking not delivering. So is this another bureaucrat to deal with judiciary? Just a guess!