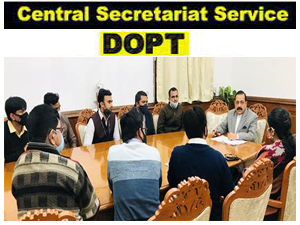 New Delhi (30.06.2022): The DOPT may issue today the formal promotion orders for over 4700 CSS Cadre officials who have been looking out for new responsibilities for a long time.

The promotion orders may cover over 1850 Assistant Section Officers who have been awaiting their career enhancement since 2018 to the level of Section Officers.
1400 Section Officers awaiting their promotion since 2015 may also be elevated to Under Secretary posts. Similarly, 1150 Under Secretary level officers who have been on the promotional roster since 2013 may also be promoted as Deputy Secretary, besides 350 Deputy Secretary level officers (awaiting their turn since 2018) may be promoted as Director.
Department of Personnel & Training (DOPT), headed by Union Secretary Ms. S Radha Chauhan, may issue the orders today as the Departmental Promotion Committee meetings relating to these long-pending regular promotions have been completed.
Reportedly, a few promotion orders were issued on Wednesday.
It may be recalled that a twelve-member delegation representing all Central Secretariat Services (CSS) officers had, on February 08, 2022, flagged several issues in a meeting with Union Minister Dr. Jitendra Singh. The issues included immediate promotions (regular/ad hoc) in CSS, Cadre Review by CR Division, Non-functional up-gradation, relaxation in the 9-year service clause for proceeding on central deputation, and a declaration of 1st October as CSS Day.
As Indianmandarins reported then, Dr. Jitendra Singh had assured the delegation that the DOPT would initiate the process to sort out all the pending issues including the cases pending in the courts.
In line with the Minister's promise, the DOPT started the process of sorting out the issue and reportedly followed a targeted approach to accomplish the task. It may be underlined that on May 17, 2022, the DOPT attached CSS Cadre officers Manmohan Verma (General Secretary, CSS Forum) and Ashwini Yadav (Secretary CSS Forum) with the CS-I Division for a period ending June 30, 2022, for the specific task of coordination with the UPSC and Cadre Units to help expedite the long pending issues about the promotion of CSS Cadre.
Even the Prime Minister could not keep himself aloof. While interacting with Union Secretaries on 02.04.2022 PM expressed serious concerns over continuing vacancies in various departments. Following this, two days later the Cabinet Secretariat instructed the heads of various departments and ministries asking them to initiate immediate steps to fill the existing vacancies against sanctioned posts. It is said the PM's instruction, in line with Dr. Singh's promise to CSS officers, built the necessary pressure to solve the long-pending regular promotion issue of CSS Cadre.
CSS officials are an essential tool of governance as they form the bedrock of Government policies as the proposals pass through various stages in the government hierarchy.
(By Rakesh Ranjan)
ALSO READ: