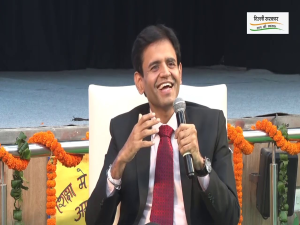 New Delhi (05.06.2023): Apparently bureaucracy too seems to be divided on political lines as former DJB CEO Udit Prakash Rai (IAS: 2007: AGMUT), who allegedly got a heritage structure demolished for construction of his official residence, alleged harassment by Special Secretary (Vigilance) YVVJ Rajasekhar (IAS: 2012: AGMUT), who is supervising a probe against him for the same.

However, Rajasekhar claimed that the probe was based on "documentary evidence" and everything was on record. The vigilance officer was probing the alleged Delhi liquor scam and alleged corruption in the renovation of Delhi Chief Minister Arvind Kejriwal's residence.
Rajasekhar has been accused of "harassment" targeting Rai's family, including his wife and children. Copies of the complaint were also sent to the lieutenant governor, the chief minister and the union home secretary, among others. But it was already confirmed by a joint inspection report by the archaeology department and the DJB that a medieval heritage monument was demolished.