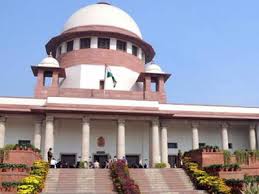 Lucknow (25.05.2023): Uttar Pradesh is likely to get a regular Director General of Police (DGP) after the retirement of its second consecutive acting Director General of Police (DGP), RK Vishwakarma (IPS: 1988: UP), later this month. The development comes in the wake of contempt pleas filed in the Supreme Court against the Uttar Pradesh and Punjab governments for appointing 'acting' DGPs in violation of apex court orders.

In contempt petition, advocate Brajesh Singh has challenged the appointment of acting DGPs in the two states. The petition states that successive appointments of acting DGP in UP is in complete violation of the apex court's orders.
Vishwakarma was made the acting DGP on April 31, 2023, after retirement of DS Chauhan, who remained an acting DGP nearly for 11 months after the state's regular DGP Mukul Goel (IPS: 1987: UP) was removed on May 11, 2022. Goel was removed by the state government much prior to his superannuation in February 2024 following allegations of dereliction of duty.
Some names that are doing rounds include Mukul Goyal (IPS: 1987: UP). Anand Kumar (IPS: 1988: UP) and Vijay Kumar (IPS: 1988: UP) are the other two officers in the race. All these three officers have their tenure up to 2024. Besides three officers Ashish Gupta (IPS: 1989: UP), Renuka Mishra (IPS: 1990: UP), B K Maurya (IPS: 1990: UP) and S N Sabat (IPS: 1990: UP) are also in the reckoning. However, speculation is rife that special DG Law and Order Prashant Kumar (IPS: 1990: UP) may be appointed as DGP. It is getting strength because recently Kumar was appointed as Special DGP and was given some additional responsibility. In view of Lok Sabha elections, Kumar stands a strong chance who is in the good books of both state and the Centre.