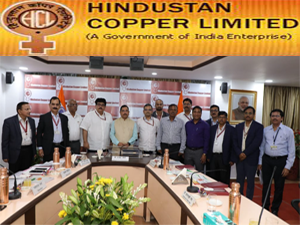 New Delhi (23.09.2022): Union Minister of Parliamentary Affairs, Coal and Mines Pralhad Joshi reviewed the performance of Hindustan Copper Limited (HCL) and discussed Special Campaign 2.0 which will focus on the disposal of scrap, weeding out physical files, carrying out a cleanliness drive and liquidating pendency of public grievances cases.

The Union Minister, who visited the Tamra Bhavan, HCL Corporate Office in Kolkata on September 22 was welcomed by Arun Kumar Shukla, CMD, Sanjay Panjiyar, D(Op), Sanjiv Kumar Singh, D(M), Ghanshyam Sharma, D(F), Subrata Sarkar, CVO. Joshi was accompanied by the Additional Secretary, Ministry of Mines, Sanjay Lohia, and other senior officers.
After the review meeting, the Union Minister along with HCL CMD and Directors visited the basement area of HCL Corporate Office, Tamra Bhavan, to take stock of the ongoing cleanliness drive.
HCL Corporate office in Kolkata has carefully weeded out 2,248 old files and archived 16,220 of them. In July 2022, HCL disposed of discarded papers and plastic, etc weighing 4.6 tonnes thereby generating an amount of Rs 1.35 lakh.
The Minister also appreciated the efforts of HCL employees towards the company's commitment to meeting the Special Campaign 2.0 timeline of October 31, 2022.