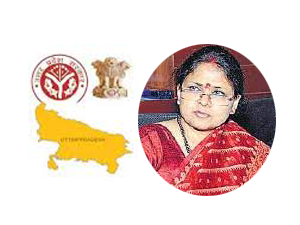 New Delhi (29.07.2022): When the Centre on Thursday evening announced the repatriation of Union Minority Affairs Secretary Renuka Kumar (IAS: 1987: UP) to her parent cadre (with immediate effect) senior IAS officers in Uttar Pradesh appeared perplexed over the reason and establishment's intent for her abrupt repatriation. Ms Kumar moves back to her parent cadre (Uttar Pradesh) eleven months ahead of her retirement i.e. June 2023. She was appointed as Secretary at the Centre in June 2021.
Sources indicated that members of UP IAS Association maintained silence till late at night on whether to exchange welcome notes on her repatriation.
It is believed that she would get a key role in the state administration. A section of UP cadre IAS officers say that she may be appointed as Additional Chief Secretary Home, Health or PWD on her return to the cadre. Apparently, the Centre aspires her to become DS Mishra's successor as Chief Secretary on his retirement on December 31, 2022.
In case she gets Home Department, she would be the first woman officer in UP to become Home Secretary. She is considered a no-nonsense and upright officer having no personal agenda and would become a symbol of women's safety in UP if so happens.
Another important development also took place on Thursday which might or might not have any link with Kumar's repatriation. A few Lucknow-based media platforms reported that UP Chief Secretary Durga Shanker Mishra and State DGP DS Chauhan on Thursday flew to Delhi by state plane to attend an important meeting convened at North Block. Hours later Centre decided to repatriate Kumar with immediate effect.
In addition, her repatriation coincides with the superannuation of Yogi Govt's most powerful Home Secretary (ACS, Home) Awanish Kumar Awasthi (IAS: 198&: UP). The State Govt has its intent clear for Awasthi's extension in service may give the Centre leverage to draft Ms Kumar as Home Secretary or next Chief Secretary.