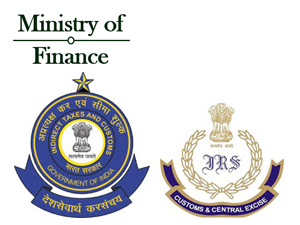 New Delhi (11.09.2021): Officials are left wondering why the government has exhibited relative urgency and efficiency in allocating the work portfolio of CBIC members following the appointment of three new members, while it is yet to display the same urgency in allocating the portfolio of CBDT members.

A Department of Revenue notification on CBIC on work allocation reads: consequent upon the appointment of D P Nagendra Kumar, Balesh Kumar (IRS C&CE:1987), and Rajiv Talwar (IRS C&CE:1988) as Member, CBIC, it's been decided with the approval of the competent authority to allocate charges among the Members of the Central Board of Indirect Taxes and Customs.
Accordingly, M Ajit Kumar Chairman will be supervising Zones and Directorate Generals; Vivek Johri Member, Tax Policy; DP Nagendra Kumar Member will handle GST, Central Excise, Service Tax, and Legal matters; Ms. Sungita Sharma as Member Administration & Vigilance; Sandeep Kumar as Member IT & Taxpayer Services; Balesh Kumar as Member Investigation; and Rajiv Talwar as Member Customs."
A timeline comparison shows that, while the government has taken five days after the appointment of new CBIC members on September 3, it is 16 days since new CBDT members were picked up on August 25.
Some officials believe that the delay in the CBDT work allocation could be due to pulls and pressures as the old guards are said to have been jockeying for creamy assignments.
Readers may recall that Indianmandarins has reported earlier on the conflict of ambitions in the CBDT, which tends to be more intense than in the CBIC.
It seems that the administration might have reduced the conflict of ambitions in the CBIC by placing Balesh Kumar (DG, DGRI) as Member-Investigation as expected by one and all.
This might have not been possible in the CBDT where Investigation was already assigned to JB Mohapatra, who functioned for some time as interim Chairman of CBDT. In the CBDT, the charge of Member-Investigation is apparently fused with Chairman's post and hence it is probable that the responsibility of Investigation would remain with Chairman Mohapatra.
Whatever, this issue is said to have stalled the preparation of a new roster. Once it's resolved, and it may happen sooner than later, the pace of transactions of business under the Department of Revenue may gather momentum.
(By Rakesh Ranjan)
ALSO READ:
CBIC may get three new members; two retiring today (31.08.2021)

Unlike CBDT, CBIC contest for board-level jobs seems more civil (27.08.2021)
CBDT gets three new Member (25.08.2021)

CBIC Board-level position: Claimants nervous about reappointment trend (20.08.2021)

Reading between the lines: CBDT appointments and work allocation raise interesting questions (09.06.2021)

CBDT gets three new Member (27.05.2021)