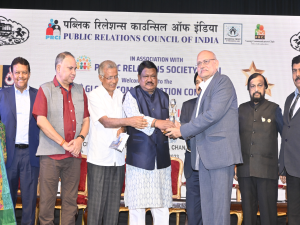 New Delhi (29.09.2023): A total 78 seasoned professionals from Corporate Branding, Marketing Communication, Media, Public Relations (PR), Knowledge Enrichment, Relationship & Protocol Management, Photojournalism and Participative Learning (PL) that included 27 women professionals have been given away Chanakya National Award, 2023 in respective categories their outstanding achievements. The awards were instituted for National and International achievers.
The awards were given away in the recently concluded 17th Global Communication Conclave held in New Delhi.
The award winning professionals carved a niche for themselves in their respective fields. Former Union Minister and Lok Sabha member from Sundargarh in Odisha Jual Oram and Former Tourism Secretary Vinod Zutshi presented awards to these winners. The Global Corporate Communication Conclave was jointly organized by Public Relations Council of India (PRCI) and Public Relations Society of Delhi (PRSD) to meet challenges faced by mass communication due to global digital revolution and disruption caused by Artificial Intelligence and Chat GPT. He spelt out guiding principles for building greater trust in the digital medium.
The conclave was participated by diplomats representing various countries underscoring its international prominence. Notable attendees included His Excellency Ambassador of Mauritius, and diplomates from Austria, Egypt, Israel, Switzerland, and the Philippines reflecting the global appeal of the event.
Some of the Prominent Award Winners are as follows:
ONGC Ltd bagged Corporate Citizen of the Year Award
Adit Arwa Husain, Director, Adfactors has won the Women of Excellence Award.
Sweta Mohanty, Chairperson Millennial Board, Adfactors PR, has won the Young Visionary Award.
Palak Hans Sen, CEO, Lalchand Jewellers, New Delhi, gets Most Admired Jewellery Professional of the Year Award.
Kulamani Biswal, Legal & Management Consultant, Former Director (Fin), NTPC Limited, has bagged the Excellence in Regulatory & Finance Management Award.
Kishore Dwivedi, Chairman of World Odisha Society, judged for the award of Eminent Journalist of the Year.
Amarendra Khatua, Former Secretary, MoEA, gets Distinguished Diplomat Award.
Siba Prashad Mohanty, CMD, BVFCL, awarded for Outstanding Performance under Best Joint Venture Company.
PR & Communication Awards
Triambak Sharma, Raipur, gets Communicator of the Year - Art & Culture Award.
Harjeet Singh, CGM (CC), NTPC, adjudged as Communicator of the Year.
Ashima Hellan, New Delhi, is Communicator of the Year in Photo Journalism category.
Mukta Agarwal, Director (MM), DOSE, gets Communicator of the Year Award.
A K das, DGM (PR), NTPC, bags PR Person of the Year Award.
Sanjee Randeva, NFL, gets Excellence in Reputation Management Award.
Ashim Raychowdhuri, GM (HR & CC) WPDCL, Kolkata, awarded Excellence in Internal Communication Award.
Narinder Sharma, MD, Critique Communication Pvt Ltd, gets Excellence in Creative Advertising Award.
Media and Journalism Awards.
Vishnu Som, Executive Director, NDTV, gets Media Person of the year Award.
K C Sharma, Sr Manager (PR), Rourkela Steel Plant, awarded for Excellence in Internal Media Management.
Faizen Haider, Assistant Editor, Economic Times, was named as Media Personality of the Year.
Dr Vimal Mohan, Sport Editor, NDTV, awarded for Sports Media Person of the Year.
Amity School of Communication gets Best Communication School of the Year -- National.
HR Excellence Awards
Dillip Kumar Patel, Director (HR), NTPC, New Delhi.
West Bengal Power Development Corporation Ltd bags Excellence in Employee Engagement Award.
Most Promising Personalities and Jury Special Awards

Nikhil Mukund Wagh, Sr Manager, Goa Ship Yard, gets Promising PR Person of the Year Awards.
Vipin Kharbanda, VP, Media Marketing, Divya Himachal Group, awarded with Jury Special Award for Media Sales and Marketing.
Memorial Awards
A K Bhattacharya, Editorial Director, Business Standard, New Delhi has been given Dr M.V. Kamath Memorial Award for Journalism.
Prabhakar Bhatt, Veteran PR Professional, Lucknow, gets Dr K.R. Singh Memorial Award for Lifetime Achievement in Communication.
Prof Jaishree Jethwaney, Delhi, gets Dr Anil Basu Memorial Award for Lifetime Achievement in Public Relations.
Tarlochan Singh, Ex MP, Former Chairman, National Commission for Minorities, New Delhi, awarded with Naresh Kumar Memorial Award for Transcending Public Relations.
Syed Abbas Akhtar, Chief General Manager (PR & Brand), BPCL, Mumbai, has been given G.P. Jaykumar Memorial Award for Integral Public Relations.
Renuka Salwan, Corporate Communication and PR Professional, Chandigarh gets K N Ashok Kumar Memorial Award for Public Relations.
Aadhivika Awards
Dr Harsha Bhargvi Pandiri, Assistant Director, (PR), Ministry of Culture, New Delhi bags Women Communicators of the Year Award.
Dr Lata Suresh, Head - Knowledge Resource Center, Indian Institute of Corporate Affairs, Manesar, gets Women for Management Award.
Neha Sinha, CEO & Co-founder, Epoch Elder Care/ Dementia specialist, Gurgaon, gets Woman Performer in Mental Health and Well-Being Award.
Sangeeta Wij, MD, Prime SD Engineering Consultant Ltd, Gurgaon awarded with Women for Science and Engineering.