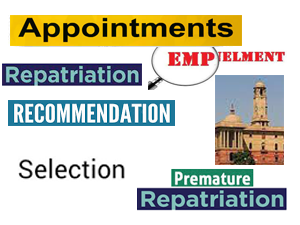 New Delhi (16.03.2023): Notifications of appointments and recommendations issued on Thursday are as follows:
G Krishnakumar (ED, BPCL) was appointed to the post of CMD, Bharat Petroleum Corporation Limited (BPCL) till the date of his superannuation, i.e. 30.04.2025.

Rashmi Raman Singh (Group MD, IOCL) was appointed as Chairman-cum-Managing Director (CMD), Oriental Insurance Company Limited (OICL) till the date of his superannuation (i.e. 28.02.2025). He replaces Anjan Dey.

The Deputation of Prashant Agarwal (IRSS: 2002), Director, Department of Higher Education was extended for a further period of two years beyond 14.02.2023 and up to 14.02.2025.

The tenure of Mayank Singh Chetan (CWES: 2011) as Deputy Secretary in the Ministry of Development of North Eastern Region was curtailed. He was appointed as Private Secretary to the Vice Chairman, National Commission for Scheduled Castes Arun Halder for a period up to 17.05.2024.
Tenure of Pranjol Chandra (IRSME: 2001), Director in the Ministry of Civil Aviation, was extended for a period of one year beyond 31.07.2023 and up to 31.07.2024. He counts his central deputation tenure w.e.f 01.08.2018.