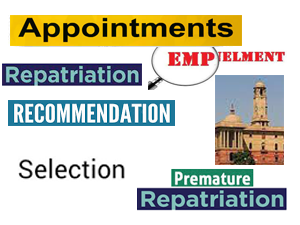 New Delhi (11.05.2022): Notifications of appointments and recommendations issued on Wednesday are as follows:-

PESB selected Rajan Kanwar (Group GM, NFL) for the post of Director (Technical), National Fertilizers Limited.
Kushal Vashist (IPoS:1999) was prematurely repatriated to his parent cadre. He is Private Secretary to the Minister for Environment, Forest & Climate Change and Labour and Employment (Bhupender Yadav).

The VRS of Ajai Kumar Dubey was accepted w.e.f. 13.05.2022. Presently, he is General Manager, Rail Wheel Factory, Bengaluru.