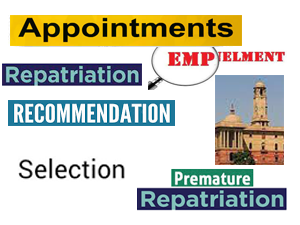 New Delhi (02.12.2022): Notifications of appointments and recommendations issued on Friday are as follows:
Hema Jaiswal (ISS: 2004), Director in the Department of Expenditure, was prematurely repatriated to her parent cadre to avail the benefit of promotion.
Sushma Chauhan (IAS: 2009: AGMUT) was appointed as Deputy Secretary in the Ministry of Home Affairs, Delhi for a period of four years.
Anita B Panda, Additional Secretary (AP), is relieved of the work pertaining to Sansad TV & Sansad TV Unit (Lok Sabha) with immediate effect.
Dr Vandana Kumar (IDAS: 1992), Additional Secretary (Human Resources), Rajya Sabha Secretariat, was appointed as Additional CEO, Sansad TV besides her existing duties, with immediate effect.