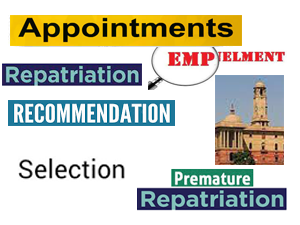 New Delhi (29.07.2022): Notifications of appointments and recommendations issued on Friday are as follows:

PESB on Friday selected and recommended Dr Srinivas Hanumankar for the post of Member (HR), Airports Authority of India (AAI). Presently, he is working as Director General, Indian Railways Personnel Service (IRPS).
Consequent upon demitting office by Dr GR Chintala (Chairman, NABARD) Suchindra Misra was assigned with the additional charge of the post of Chairman, NABARD w.e.f. 01.08.2022 till the appointment of a regular incumbent.