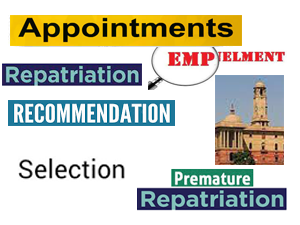 New Delhi (21.06.2022): Notifications of appointments and recommendations issued on Tuesday are as follows:

Rahul Prakash (IPS:2006:RJ) was appointed as Deputy Inspector General in Central Reserve Police Force (CRPF) against the existing vacancy for a period of five years.
Ms Aswathy S (IAS:2003:OD) was prematurely repatriated to her parent cadre with the provision of "extended cooling off'. She is Deputy Director (Sr.) in the Lal Bahadur Shastri National Academy of Administration (LBSNAA), Mussoorie.
Ruchira Kamboj (IFS:1987) has been appointed as Permanent Representative of India (PRI) to the United Nations in New York.