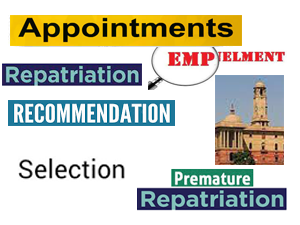 New Delhi (21.02.2023): Notifications of appointments and recommendations issued on Tuesday are as follows:
Vaibhav Goyal (IOFS: 2009) was re-designated as Director in the Ministry of Tribal Affairs for a period up to 08.12.2024. Goyal counts his central deputation tenure w.e.f. 09.12.2019.
The ACC approved the continuance of Pankaj Kumar in the newly created post of Director (Production), ONGC w.e.f. 01.03.2023 till the date of his superannuation i.e. 30.06.2026. The post of Director (Production) came into existence after the merger of Director (Offshore) and Director (Onshore).