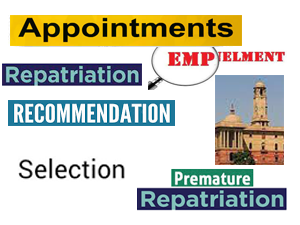 New Delhi (17.05.2022): Notifications of appointments and recommendations issued on Tuesday are as follows:

The additional charge of the post of Secretary, Ministry of Tourism was assigned to Ali Raza Rizvi (lAS:1988:HP) from 18.05.2022 to 29.05.2022 during the period of absence on leave of Arvind Singh (lAS:1988:MH). Presently, Rizwi is Secretary, Department of Public Enterprises, Ministry of Finance.
The Ministry of Railways assigned the additional charge (Looking After) of the post of Member (Finance), Railway Board to Mohit Sinha (IRAS), Additional Member (Revenue), Railway Board w.e.f. 17.05.2022. The post fell vacant after the appointment of Naresh Salecha (Retd IRAS:1984) as Member (Technical), NCLAT.