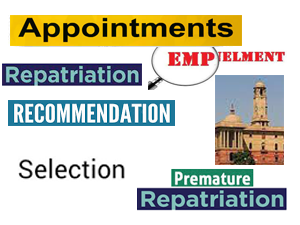 New Delhi (09.09.2022): Notifications of appointments and recommendations issued on Friday are as follows:

The tenure of the additional charge of the post of CVO, Power Grid Corporation of India Ltd (PGCIL) entrusted to Ms Simmi R Nakra (IP&T AFS:1994) was extended for a period of three months beyond 18.07.2022 or till the appointment of a regular CVO or until further orders. Presently, She is CVO, Power Finance Corporation (PFC).
The tenure of the additional charge of the post of CVO, Housing & Urban Development Corporation (HUDCO) was assigned to Arun Kumar Chaturvedi (IRSE:1994) for a period of six months beyond 04.09.2022 or until further orders; whichever is earlier. Presently, he is working as CVO, Central Public Works Department (CPWD).
Upon failing to join as CVO, HMT (Bengaluru) the Centre debarred Guru Prakash (IRSE Civil:1997) from Central Deputation and Foreign posting for a period of five years.

PESB selected Kartikeya Sinha (GM, BSNL) for the post of Director (Planning & Marketing), National Small Industries Corporation Limited (NSIC).

The Centre accepted the premature repatriation and VRS application of Narendar Rebelly (IRS IT:1998), Director (Finance), Central Silk Board (Bengaluru) under the Ministry of Textiles. He stands retired w.e.f. 01.08.2022.