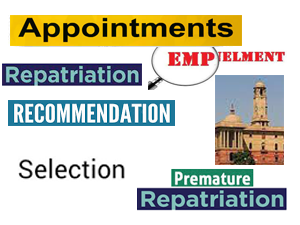 New Delhi (05.07.2022): Notifications of appointments and recommendations issued on Tuesday are as follows:-

Vijay Kumar (lPS:2007:AGMUT) was prematurely repatriated to his parent cadre to avail the benefit of promotion. Presently, he is the Director in the Department of Sports.
PESB selected Sanjai Kumar for the post of Chairman & Managing Director (CMD) of RailTel Corporation of India Ltd (RCIL). Presently, he is Director, Network Planning & Marketing, RailTel (RCIL).