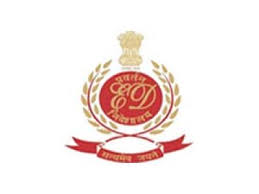 New Delhi (20.01.2023): Sahibganj Deputy Commissioner (DC) Ramniwas Yadav (IAS: 2015: JH) in Jharkhand has also been put under the Enforcement Directorate (ED) scanner and has been issued a summons by the central agency. The agency asked him to appear before it on January 23.

Earlier, on May 11, 2022, ED had arrested a senior IAS officer in a money laundering case linked to alleged embezzlement of MGNREGA funds and illegal mining after interrogation for over 15 hours.

Ramniwas Yadav joined as Deputy Commissioner of Sahibganj in October 2020. ED in its charge sheet has also mentioned that maximum illegal stone mining and transportation took place during the regime of Yadav. Reportedly, Yadav has been issued summon after the ED found during an investigation that Chief Minister Hemant Soren's representative Pankaj Mishra, who is currently under custody, made several phone and video calls to the Sahibganj DC Ramniwas Yadav during July-October last year. Despite being in custody, Mishra made more than 300

calls to several officials and political leaders in the state.