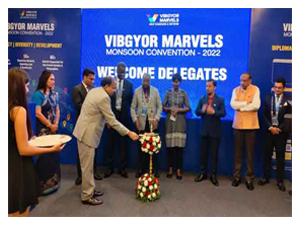 New Delhi (27.07.2022): The Vibgyor Marvels Monsoon Convention (VMCC) was held on July 27, 2022, at the India Habitat Centre, New Delhi. Based on the theme, 'Diplomacy, Diversity, Development', the event was anchored by Vibgyor Marvels Private Limited (VMPL) a collaborative consortium platform that brings together exclusive members across public, private, and social sectors with the aim of maximizing value creation by collaboration and complementarity. VMCC brought together members of Vibgyor Marvels (VM) with ace diplomats.

Dammu Ravi, Secretary (Economic Relations), Ministry of External Affairs was present at the VMMC as Guest of Honour. Ambassadors, High Commissioners and senior diplomats from Cote d'Ivoire, Malawi, Bhutan, Lao PDR, Senegal and Zimbabwe participated in the Convention. About 150 members of VM and other organizations, including the CMD of NBCC, senior officer of NTPC and Vice Chancellor of Lovely Professional University (LPU) also participated at the event.
Short presentations were made by VM members on subjects in which India has made rapid strides and is keen to share its expertise, experience and know-how with its developing country partners.
The interaction between the senior diplomats and VM members has resulted in greater understanding among members of the type of economic, commercial and social development that the countries hope to achieve with the participation of Indian companies and entities, including in infrastructure and capacity-building projects.
The areas of business and specialization among Vibgyor Marvels members comprise varied fields like civil construction, road safety, housing projects, power, dairy industry, agriculture development and capacity training, vocational skills training, manufacture of food items, industrial goods manufacturer, software development, infrastructure and renewable energy projects, engineering and project management consultancy, manufacture of plant nutrient and related products, NGOs, water treatment technology development, chartered accountancy, financial management, legal expertise, and travel and tourism.
Vibgyor Marvels is promoted by Rajinder Kumar Gupta, former CMD of WAPCOS and NPCC. He is assisted in VM with over twenty domain experts. Launched in January 2022, over 110 companies, organizations and experts have joined VM.