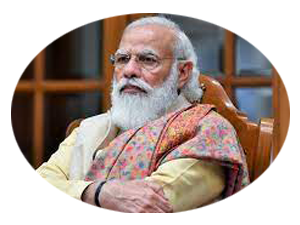 New Delhi (20.09.2021): Prime Minister Narendra Modi has exhorted the union secretaries to become true leaders of their departments by interacting with the staff and inspiring them to perform and speed up the execution of the host of reforms.

In his first physical interaction with the secretaries on Saturday since the outbreak of the Covid-19 pandemic, the PM asked them to leverage their domain knowledge and expertise to smoothen the process of execution of the reforms programs.
Secretaries were expecting this special and marathon meeting as the PM has made it a sort of tradition to inspire and lead his officials on his birthdays.
Commenting on the meeting, an official said "The PM wanted us to interact with staff across all levels... to inspire confidence among them. There is a need to use the available government data intelligently for the best results. He said we have to constantly work on improving things."
Reportedly, the PM said he too often wonders over the slow pace of execution of projects despite government establishments equipped with comprehensive domain knowledge and skills of the highest standard.
The PM remarked that if projects are executed with speed and efficiency, the government will be free from hiring the services of consultants.
The PM's call to secretaries comes at a time when the government is seen struggling with an acute shortage of revenue and will be facing one election or another to the run-up of the 2024 Lok Sabha election.
The meeting was not one-way traffic. Indeed the PM solicited the advice of several secretaries to share their ideas and views. While most of them focussed on what they did in their respective departments, a few adopted a forward-looking approach in their deliberations that earned them the PM's praise and word of encouragement.
A section of senior officials looks at this development in the backdrop of recently notified (dated 03.09.2021) SOPs for processing of cases under 17A, a new insertion, of the Prevention of Corruption Act, 1988.
The development provides security to senior government officials against the threats of uncertainties pertaining to inquiry or investigation into offense relatable to any recommendation made or decision taken by such public servant in discharge of his/her official functions or duties.
It is believed that after providing immunity the PM motivated secretaries to gear up and execute reform programs with efficiency.
(By Rakesh Ranjan)
ALSO READ:
PM to hold marathon-meeting with Union secretaries this week (16.09.2021)