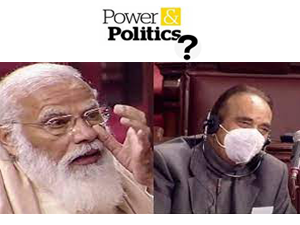 New Delhi (24.06.2021): It may be interesting to see who the Congress deputes for participation in the PM-called all-party conference on J&K. Though, officially, Ghulam Nabi Azad remains a member of the Congress Party, he is considered an 'outcaste' because of his association with the group that has been demanding democratization in the functioning of the party. Whatever be the Congress stand, it is clear that Azad will definitely participate in the meeting, even if he is not deputed by the Congress Party.

Further, the hope of certain members as to the restoration of Article 370 may not be fulfilled. The government is neither inclined nor desirous of stepping back on its 370 deeds which are already cast.
The chief purpose of holding the meeting is said to be an exploration of the mood for holding the assembly elections to J&K and its reversal from UT status to statehood.
Indianmandarins has been told that the Government wants to complete all necessary obligations that a newly formed state requires before going to elections so the leaders concerned have been called to be informed. Leaders will also be informed about the delimitation process and preparation of a new voters' list.
As the processes roll on for holding elections, the government is desirous of bringing all parties to participate in the elections whenever they are held. Of course, parties of the Gupkar Alliance are seen willing to participate in the elections. Since they act 'tough' sometimes, the value of Azad, J&K's Apni Party chief Altaf Bukhari, and the People's Conference chief Sajad Gani Lone can't be minimized.