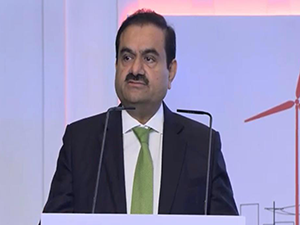 New Delhi (04.02.2023): The Hindenburg Research Report and subsequent short selling have caused a bloodbath at bourses for Adani Group stocks but there is a flip side of the story besides Opposition demands to constitute a JPC or a panel led by an SC judge to investigate the matter. Adani Group is under attack from all across but it is being dubbed that China is behind the entire conspiracy as the Group is harming Chinese interests. Let's understand point by point:
Investments made by the group in Australia, Sri Lanka, and Africa continent and even in Israel's Port of Haifa was a counter strategy to respond to China which was trying to encircle India with its investment and loans to these regions.
The direct benefit of these investments was benefitting youths from India and further benefit them by providing employment.
Adani Group had big investment plans to the tune of $150 billion in the next 5-10 years under which the group was likely to invest in Green Energy, Data centres, Airports, and Healthcare among others.
Israel handed over the Port of Haifa to the Adani Group for development which was a jolt for China. Winning the contract was a big setback for China as with this the company is set to enter the European market.
Haifa Port's geographical location is such that it will be a hub for both Europe and Asia on which interference of China will neither be accepted by India nor by us nor to Israel nor to UAE.
Strategic deal of $70 crore with Sri Lanka to develop a deep sea container terminal which is the biggest investment in the country so far. This was also a setback for China.
The group got a contract to generate an 8 gigawatt manufacturing linked solar energy project in 2020. So far 90 per cent equipment is imported from China which will end in 3-5 years making China infuriated. Adani left all Chinese billionaires behind.
In 2019, Adani Group got a coal mine project in Queensland in Australia in 2021 which was delayed due to environmental clearance and legal battle. A loss to China.
SBI and LIC have already stated that they did not bear any loss.
Footprints of Adani Group are increasing across the globe at the cost of China making them desperate.