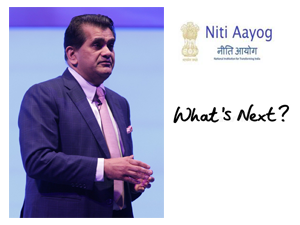 New Delhi (25.06.2022): Since PM Narendra Modi isn't known for letting his trusted officers go out of service, the sudden return of former Union Secretary for Drinking Water & Sanitation Parameswaran Iyer (Retd. lAS:1981:UP) as the new Chief Executive Officer of Niti Aayog (a public policy think tank) has ignited speculations in the corridors of power about the next assignment of Aayog's current CEO Amitabh Kant (Retd IAS:1980:KL).
It's possible that the 2024 general elections and other state elections may have prompted the PM's decisions.
Indianmandarins' assessment is that in all future elections henceforth, social sector themes could be a swinging factor. Since Parameswaran is considered a social sector expert, this could have been the reason for pulling him back from his family obligations and plowing into the Aayog as its new CEO.
On the other hand, Kant's expertise lies in fixing the nuts and bolts of economic development and industrialization. He is also considered the proponent of many sellable ideas that added to the govt's pro-development image. It may be possible that he may be assigned the responsibility of an industrialization czar.
Whatever be the Centre's next move for Kant but a section of top officials has their own reasons to believe that irrespective of the rumors, Kant is not going to fade away. They believe that sooner or later Kant may get dividends for his loyalty & utility and may be assigned the job of a governor/ LG or a ministerial berth itself.
Like Parameswaran, officials believe Kant could also be given time for rest and recreation; a sort of "cooling-off" period.
It may be underlined that Kant, after his retirement as DIPP Secretary on March 31, 2016, was appointed as NITI Aayog CEO which was first extended until June 30, 2019, followed by consecutive extensions until this month's end i.e. 30.06.2022. Having completed 66 yrs of age he may have exceeded the requisite age for many constitutional positions but always stands a chance for gubernatorial assignments of a ministerial berth sooner or later. PM Narendra Modi isn't known for letting his trusted officers go out of service.
(By Rakesh Ranjan)