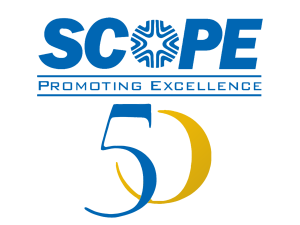 New Delhi (28.03.2023): Results of SCOPE Biennial Elections 2023-25 were declared by Atul Sobti, Director General, Standing Conference of Public Enterprises (SCOPE) and Returning Officer in the presence of members of Public Sector Enterprises and contestants. The newly elected SCOPE Executive Board will assume office from April 1, 2023.

While announcing the results, Sobti said that SCOPE continues to witness enthusiastic participation of its member PSEs, in the SCOPE Board elections, which reiterates the faith of our members in SCOPE's endeavours as the apex body of PSEs in India. As per the results declared, Sandeep Kumar Gupta, CMD, GAIL (India) Ltd. has been elected as Chairman, SCOPE. Brajesh Kumar Upadhyay, CMD, Goa Shipyard Ltd. has been elected as Vice Chairman, SCOPE.
Other members elected to the Executive Board of SCOPE are: Sujoy Choudhury, Director (Planning & Business Development), IOCL; Ayush Gupta, Director (HR), GAIL; Dillip Kumar Patel, Director (HR), NTPC; Rajni Kant Agrawal, CMD, WAPCOS; Krishna Kumar Singh, Director (Personnel), SAIL; Rajendra Prasad Goyal, Director (Finance) NHPC; Ravindra Kumar Tyagi, Director (Operations), POWERGRID; Usha Singh, Director (HR), MOIL; Vinay Ranjan, Director (P&IR), Coal India Limited; Baldev Kaur Sokhey, Director (Finance), NBCC; Amitava Mukherjee, Director (Finance), NMDC; Adika Ratna Sekhar, CMD, Balmer Lawrie; Lalit Kumar Gupta, CMD, Cotton Corpn. of India Ltd.; Lokesh Kumar Aggarwal, Director (Finance), ITDC; Manoj Kumar, CMD, EdCIL; Om Prakash Singh, Director (T&FS), ONGC; Bhanu Prakash Srivastava, CMD, Addl. Charge & Director (Other Units), BEL; S C Mudgerikar, CMD, RCF and Dr Siba Prasad Mohanty, CMD, BVFCL.