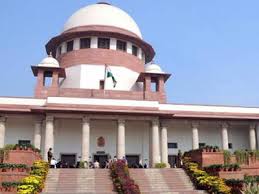 New Delhi (16.11.2021): A Bench led by Justice L Nageswara Rao of the Supreme Court has dismissed petitions challenging the Punjab and Haryana High Court's order of upholding the appointment of Dinkar Gupta as the then Director General of Police (DGP) of Punjab. The SC rejected petitions of IPS officers Mohammad Mustafa and Siddharth Chattopadhyay against the appointment of Gupta as DGP.

On November 6, 2020, Punjab and Haryana High Court upheld the Punjab Government's February 7, 2019 order appointing Gupta as Punjab DGP. Gupta – who was DGP (Intelligence) -- was appointed the Punjab DGP in 2019, superseding five senior officers, including Mustafa and Chattopadhyaya who belonged to the 1985 and 1986 batches, respectively.
After the change of guard in Punjab in September, Gupta – a 1987-batch IPS officer – had proceeded on leave. Later, he was transferred as chairperson of Punjab Police Housing Corporation. The high court had allowed the Punjab government's appeal against the January 17, 2020 order of the Central Administrative Tribunal (CAT) that had set aside Gupta's appointment as Punjab DGP
The CAT order had come on a plea by Mustafa and Chattopadhyaya who questioned Gupta's appointment on the grounds that they were ignored despite being senior to him.