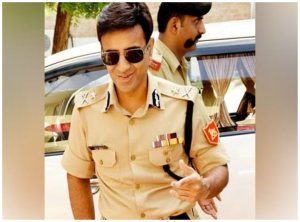 Patna (09.12.2022): The real life hero somehow met with a tragic fate for creating a reel life hero. IPS Officer Amit Lodha (IPS: 1998: BH), whose book the Bihar Diaries' Netflix avatar 'Khakee: The Bihar Chapter,' has become a rage, was suspended following an FIR registered against him for allegedly being indulged in some financial irregularities. There are many bureaucrats in the country who earned fame as professional actor and lead character in films, as professional painter, philanthropist and writer of numerous best sellers. But all it needs compliances and follow laid down procedure under service conduct rules.
They need to inform and seek permission of the government if they pursue artistic though professional propositions and enter into any commercial deal for the same. Apparently, Lodha failed to do so while writing the book and also when he entered into a deal with the production house 'Friday Storytellers' which made the series for Netflix. A senior official told Indianmandarins that he at many occasions he joined the filming locations without seeking leave.
In fact the FIR has been lodged citing disproportionate asset and some financial trails holding Lodha responsible for unacceptable professional practices. Whatsoever could be the bases but a section of civil servants say that Lodha's larger than life image on the silver screen would have been unacceptable to the political masters of the state.