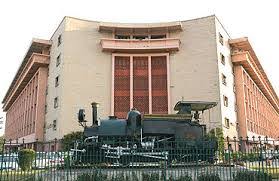 New Delhi (20.09.2023): Ministry of Railways on Tuesday set-up two expert committees engaging former Chairman & CEO Vinay Kumar Tripathi and Anil Kumar Lahoti as their head. Two separate one-man expert committees were constituted for improving the maintenance regime of rolling stock and Inspection & Maintenance of tracks that will be assisted by a set of five senior officials having domain knowledge of key verticals of railway operations.

Expert committee under former CRB & CEO Vinay Kumar Tripathi will draw a road map for improvement in maintenance regime of Rolling Stock over Indian Railways. Tripathi will be assisted by five senior officers namely; A K Chandra (PED/W&D, Railway Board), Mohit Chandra (PED/EE/RS, Railway Board), N P Singh (PCEE/CR), Shalabh Goel (SDGM/WR), Samir Lohani (CRSE/Chg/WCR) and Ajit Kumar Singh (ED/SW/RDSO)
Further, the expert committee under Anil Kumar Lahoti will draw a road map for improvement of Track Inspection and Maintenance on Indian Railways with the assistance of senior officials namely; Parmeshwar Funkwal (PCE/ Western Railway), Vivek Gupta (CAO/C/Central Railway), Ashish Bansal (PED/TK (M&MC, Railway Board), Sanjeev Shrivastav (CE/Works/ South Eastern Railways), Anil Choudhary (Sr Prof/TM/IRICEN) and Rahul Singh (Director/TMC/RDSO).