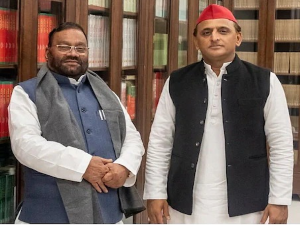 New Delhi (07.02.2023): Controversy was caused by Samajwadi Party leader Swami Prasad Maurya over some of the verses of Ramcharitmanas of Tulsidas who not only spoke against it but his supporters less in number than panel called on TV channels to discuss the issue. The issue that has gone to the extent of burning copies of the holy book started with Bihar Minister Chandrashekhar speaking against it. Strangely people belonging to the OBC community were in action in support of the Dalit community who were missing from the site of protest. This also needs to be underlined here that Dalits don't get along with OBCs politically.

So, what does this protest mean? Without mincing a word, it clearly means that this is an attempt to change the existing political equation in the country where caste lines were blurred by Hindutva politics with the emergence of Prime Minister Narendra Modi in the political horizon of the country. In no uncertain terms, this is a clear attempt to realign caste a la carte of the country. To understand it in specific terms, the Mandal movement created an OBC vote bank which was drastically eroded by the Mandir movement catapulting the BJP to power at the Centre albeit in alliance with some regional forces of different political ideologies.

Leaders that emerged during the JP Movement in the name of Socialism started talking about caste politics especially the caste that they belonged to for their political survival as there was no central figure of the Socialist movement after the fall of Morarji Desai and Charan Singh governments at the Centre in seventies. A second wave of unity in the name of fighting corruption gave Prime Ministers like V P Singh and Chandrashekar. But fragmentation continued and the socialist movement became leader centric like Lalu Prasad and Nitish Kumar in Bihar, Mulayam Singh Yadav and Mayawati in Uttar Pradesh and H D Deve Gowda and Ram Krishna Hegde in Karnataka besides many such others in various states. To a certain extent Sharad Pawar's Nationalist Congress Party too represented the Maratha community. These leaders were very strong in representing their respective communities.

But former Uttar Pradesh Chief Minister Rajnath Singh gave a concept of Atipichara and Atidalit to empower them and brought out a booklet on this. Allegedly, this purportedly had the intention of breaking the unity of Dalits and OBCs as unitary segments but his government fell and was later voted out. So the concept was shelved but this was lapped up by Bihar CM Nitish Kumar to play against Yadav politics in the state to make himself relevant with the support base of a meager 2 per cent population of his community. He succeeded in his mission to keep Rashtriya Janata Dal of Lalu Pasad at bay for a very long time with the help of the BJP.

Meanwhile, aspirations of those numerically smaller communities within the umbrella of OBC and Dalits as such started being nurtured. In Bihar Nitish Kumar represented them all but in the rest of the country, political parties of these smaller communities started mushrooming with leaders like Mukesh Sahni, O P Rajbhar, Sanjay Nishad, Sone Lal Patel and RLD's Ajit Singh. There are many others who have their presence in pockets like Atawale and Ambedkars in Maharashtra. The number is so big that every name and party cannot be mentioned. They were predominantly so-called secular or opposed to Hindutva but switched sides as per convenience.

Some of these leaders have even got electoral successes as well by making alliance with bigger political parties but the new political discourse of Hindutva started by Narendra Modi in 2014 at national level made all of them irrelevant and some of them either aligned with him or electorally humiliated with four time chief minister Mayawati going into almost political oblivion and Nitish Kumar competing for the third position with the Congress in Bihar. So much so that leaders like Swami Prasad Maurya and Om Prakash Rajbhar were made politically irrelevant and Maurya even failed to save his own seat.

This is the genesis of the leaders like Maurya, Chandrashekhar and others resorting to criticize and abuse Ramacharitmanas to get political dividend. With seeing their political future in dark, clever Rajbhar, Jayant Choudhary and N Chandrababu Naidu are hobnobbing with the BJP but some other who feel that they can decimate the BJP or the BJP had shut its door on them are resorting to the tactics of uniting Dalits, OBCs and Muslims by burning Ramcharitmanas. They are trying to create an artificial chasm among Hindus. And the moment a Hindu text is burnt, Muslims will pay attention to it and get united on the possibility of the winability of that particular group in polls or if it is able to defeat the BJP. By abusing upper caste or Hindu religion, they think that OBC and Dalits may also rally behind them to counter Hindutva planks of the BJP.

So, the burning of Ramcharitmanas has a political agenda to dent Hindutva politics of the BJP. They might have succeeded in their plan, had Modi not been an OBC himself and the RSS not been working among Dalits and Adivasis in a big way. This is just a beginning for such kind of politics and many more such events are expected to come up before 2024. Moreover, these things have a much localized effect. It cannot have a mass appeal and all India effect while Modi's Hindutva has reached as far as Tamil Nadu. Whatever be the case, 2024 Lok Sabha elections are going to be very interesting on these counts.
(By Vinod Kumar Shukla)