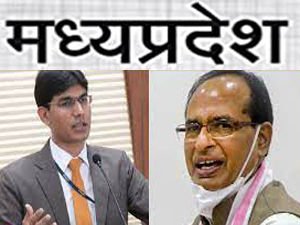 Bhopal/New Delhi (19.06.2021): Whistleblower IAS officer served notice; threatened for life.

Even an IAS officer isn't safe if they turn into a whistleblower.
Lokesh Kumar Jangid (IAS:2014:MP) realized it when an unknown caller advised him to go on a six-month leave if he cared for his and his son's life.
What's Jangid crime?
He has been posting stories of corruption in the private IAS Group on Signal.
For this, he has already been served a notice by the state government which transferred him from a district to the state education department,
Given the threat call, Jangid has sought protection from MP Police.
In a letter to Madhya Pradesh DGP Vivek Johri on Friday, Jangid said he got a call on the messaging app Signal from an unknown person at 11.50 pm on Thursday, threatening him and his son.
Jangid is said to have been a straightforward civil servant. So, as a 'reward', in the last four and half years of his career, he has been transferred eight times, making a mockery of the state government following the rule of law in transfer and posting of officers.