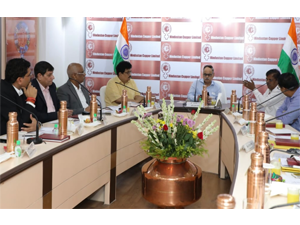 Kolkata (16.09.2022): Secretary, Ministry of Mines, Government of India, Dr Alok Tandon, visited the Corporate Office of Hindustan Copper Limited in Kolkata to review the performance of the Company.
There Dr Tondon discussed the ongoing expansion projects of the Company and threw light on the measures to expedite growth. He stressed the potentialities of the Company and emphasised augmenting production on a war footing.
Arun Kumar Shukla, Chairman and Managing Director, HCL, Sanjay Panjiyar, Director (Operations), Ghanshyam Sharma, Director (Finance), Sanjiv Kumar Singh, Director (Mining), Subrata Sarkar, Chief Vigilance Officer and senior officials of the Company accorded a warm welcome to Dr Tandon. Meanwhile, all the unit heads of HCL were also connected through VC during the review meeting.
Dr Tandon was also welcomed by Apurba Roy Chowdhury, General Secretary, Hindustan Copper Office Staff Union, Kolkata.
CMD, HCL also presented the highlights of the performance of the company and recollected various occasions in which Dr Tandon's mentoring has helped HCL to successfully surmount many hurdles and roadblocks in fund-raising exercises from Equity Market and production performance of the Company. The presentation was followed by an elaborate interactive session.