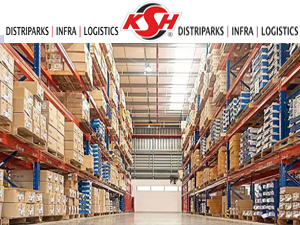 New Delhi (03.10.2022): Integrated supply chain logistics solutions company KSH Logistics, is redefining its operational approach to meet the competitive landscape as it gears up for the festive season.

"We intend to take a solution-based approach and rationalize the customer supply chain network on a regional or pan India level, based on customer requirement. With this, we want to bring in supply chain efficiency, cost optimization and service capabilities through our existing MCF network or standalone
warehouses or a mix of both for businesses of all sizes", said the company's COO Deepak Tiwari.
To build regional capacity, the company is addressing space-related challenges, market expansion efforts and accelerating digital transformation for managing and augmenting supply chain efficiencies.
It already has a wide network of multi-client facilities (MCF) and standalone warehouses across India and offers a pay-per-use model to businesses of all sizes. The company also offers CKD packaging, line feed, in-house warehousing, and warehouse management services along with secondary transportation and distribution solutions for B2B customers.
The company caters to customers in auto, e-commerce, retail, FMCD and FMCG industries and can accommodate new clients, said Tiwari.
It also offers an asset-light plug-and-play model and Flexi-capacity solution and allows businesses to use the MCF warehouse space as per their needs.
Having wide techno-logistics solutions and networks, KSH Logistics can help customers save up to 10 percent on their operational costs. Following the new business approach, the company hopes to make warehousing and logistics solutions pocket-friendly, faster, and region-specific.
Furthermore, the company is deploying tech solutions to provide end-to-end visibility enabling customers in managing their supply chain efficiently. This means that any company that needs warehousing, distribution, and packaging services in their region can avail of KSH Logistics services at competitive prices.