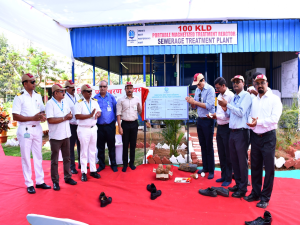 Navi Mumbai (06.06.2023): Jawaharlal Nehru Port Authority (JNPA) celebrated the World Environment Day, a global event dedicated to raising awareness and taking action for the protection of our planet's ecosystem. JNPA is committed to sustainable practices and recognizes the vital importance of preserving and conserving the environment for future generations.

World Environment Day, observed annually on June 5, is a significant occasion that emphasizes the need to address pressing environmental challenges. As a responsible port, JNPA organized a series of initiatives to commemorate this important day and promote environmental stewardship among its stakeholders, employees, and the local community. JNPA launched several impactful activities to contribute towards the restoration and preservation of fragile ecosystems under the theme "Beat the Plastic Pollution."
Sanjay Sethi (IAS: 1992: MH), Chairman, JNPA, inaugurated the 100 KLD Sewage Treatment Plant at Port Operation Centre (POC) in the presence of Unmesh Sharad Wagh, IRS, Dy Chairman, JNPA HODs and other dignitaries. A tree plantation campaign within the premises of JNPA SEZ was organized in association with HPCL. Saplings of indigenous plant species such as Kadamba, Sitaphal, Sita Ashok, Cassia, Parijat, Kamini etc. were planted to increase green cover, enhance biodiversity, and mitigate carbon emissions.
Speaking on the occasion Sanjay Sethi said, "Sustainability is at the core of operations at JNPA. We believe in the power of collective action to protect and restore our environment. On this World Environment Day, we are proud to reinforce our commitment to ecological preservation and inspire others to join us in this noble cause. Together, we can make a difference."