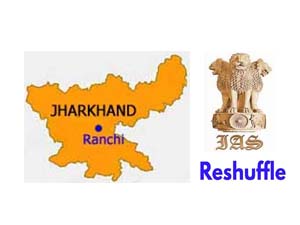 Ranchi (06.08.2021): The Jharkhand Government issued orders to transfer six IAS officers across the state causing a minor administrative reshuffle. The list of officers transferred and their new appointments included:
Kamal Kishore Son (IAS:1998:JH) has been posted as Secretary, Scheduled Tribes, Castes, Minorities and Backward Classes Welfare Department.
Pooja Singhal (IAS:2000:JH) has been made Secretary, Industries Department. She also gets the additional charge of Secretary, Mines and Geology.
Amitabh Kaushal (IAS:2001:JH) has been posted as Secretary, Department of Tourism, Art-Culture, Sports and Youth Affairs. Kaushal will also hold the additional charge of the Secretary, Disaster Management Department.
K Srinivasan (IAS:2005:JH) has been given the post of Secretary, Transport Department
Amit Kumar (IAS:2010:JH) has been posted as Commissioner, Excise. Also, he has been given the additional charge of Managing Director, Beverages Corporation
Himanshu Mohan (IAS:2016:JH) has been appointed as Secretary, Jharkhand Public Service Commission.