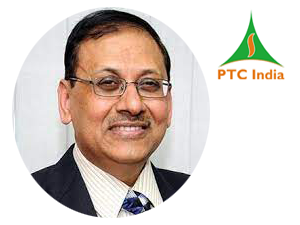 New Delhi (24.10.2021): Even 10 days after PTC CMD Deepak Amitabh (Retd IRS IT:1984) resigned, the curiosity about the reasons remains alive because it followed hard on the heels of a similar unexpected exit a month ago of State-run Energy Efficiency Services Ltd (EESL) executive vice-chairman Saurabh Kumar.

Everyone seems to be wondering what personal reasons could have constrained or motivated Amitabh to quit service 11 months ahead of his tenure ending in October 2022.
The PTC Board had accepted Amitabh's resignation w.e.f. November 05 in a meeting held on October 13, 2021. When the news flashed on 14 October, even the stock market was taken aback which normally tends to smell such events in advance, although the news had only a marginal impact on the PTC shares on 14 October.
Many top executives across Central PSUs and the private sector find it difficult to buy the argument of 'personal reasons. Their suspicion is said to be based on the fact that under Amitabh, PTC India has done well and in the last year, the company has given a return of 186.84% versus the sector return of 80.65% and the Sensex return of 49.96%.
Although in terms of management risk, capital structure, and growth, the company is rated Average by a SEBI registered research service, Markets Mojo, the company has been declaring positive results for the last four quarters despite the Covid pandemic.
It is speculated that Deepak Amitabh, with his success in enriching the valuation of PTC and ensuring higher returns versus per unit of risk, might have been tempted to get into the private sector as part of advanced career planning.
Officials believe that there could be some similarity in Amitabh's case with the recent resignation of Director-General of the Bureau of Civil Aviation Security (BCAS) Nasir Kamal, a 1986-batch UP cadre IPS officer. He too has opted, last month, for premature retirement by availing of the VRS scheme sacrificing seven months of his service. After availing Apex Scale and seeing no further career path Kamal, who holds an LLM degree, would have wanted to settle down in the legal profession which makes sense.
(By Rakesh Ranjan)