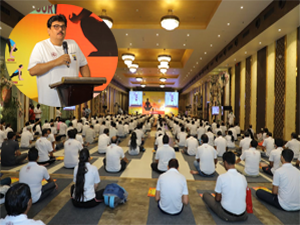 Kolkata (21.06.2022): Under the aegis of the Ministry of Mines, Govt. of India, Hindustan Copper Limited joined the global fraternity from Kolkata in grand celebration of the 8th International Day of Yoga, along with GSI, NALCO, IBM and MECL. The number of participants exceeded 500.

The speech of Prime Minister, Narendra Modi, telecast from Mysuru was watched by the gathering on Live TV.
Arun Kumar Shukla, CMD, HCL, read out the message of Pralhad Joshi, Minister of Parliamentary Affairs, Coal and Mines, Govt. of India, on the International Day of Yoga.
Demonstration of Yoga based on Common Yoga Protocol, as advised by the Ministry of Ayush, was conducted which was followed by Prabhat Pheri to generate awareness among the public about the benefits of Yoga. Later, HCL also conducted Online Yoga Session for students of local schools.
International Day of Yoga 2022 was also celebrated in all the units of HCL with great fervour.
The essence of Yoga is to create harmony and balance – not only between the mind and the body but also in the human relations across the world. Yoga emphasizes the values of mindfulness, moderation, discipline and perseverance. When applied to communities and societies, Yoga offers a path to sustainable living.