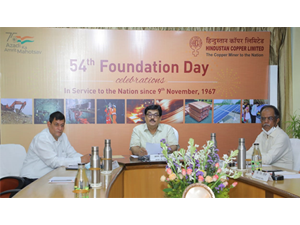 New Delhi (10.11.2021): The performance of Hindustan Copper Ltd has improved substantially. This was reflected from the financial results that the Board of the company in its meeting held in Kolkata approved for the second quarter ending September 2021 of the current fiscal year 2021-22.

The Profit Before Tax during the quarter was Rs 92.10 crore as against a loss of Rs 3.27 crore in the corresponding period of the last year. The Profit After Tax was Rs 67.53 crore during the current quarter compared to Rs 9.20 crore of the corresponding quarter of the previous year. During the quarter, the sales volume of 7317 MT and the Revenue from operations of Rs 464.46 crore were 25 percent and 58 percent higher, respectively compared to that of the corresponding period of the last year.

To encourage Copper usage and improve the livelihoods of the metal craftsmen, HCL has decided to promote micro-enterprises at its Mining Units.